Virtual Dedication of Memorial to Enslaved Laborers
Image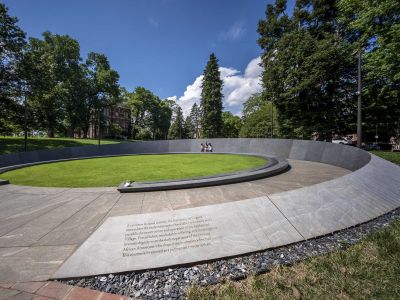 A virtual ceremony, free and open to the public, will be held on Saturday April 10th to honor the legacy of the estimated 4,000 enslaved people who built and maintained UVA between 1817 and 1865.
The official dedication ceremony will be broadcast at 11 a.m., featuring a range of speakers, including alumni who first proposed the idea for the memorial, descendants of the enslaved, students giving a spoken word performance and UVA leaders and others who've worked on and supported this project.
Later that evening, the a capella group Take 6 will perform a concert online at 7 p.m.
Viewers can watch the events live or access a recording afterward on the University-affiliated platforms: this Live Streaming page or Facebook page.
More information on the dedication and a virtual panel discussion on descendant communities in Virginia to be held on Friday night (April 9th) can be found in this UVA Today article.