Image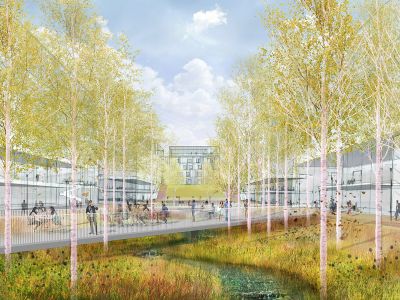 Ivy Corridor Strategic Planning Study - Fall 2016
The University of Virginia, in association with the University of Virginia Foundation outlined a process for developing a longterm strategy for redeveloping 14.5 acres of land west of the intersection of Ivy Road (U.S. 250 and Emmet Street /U.S. 29). At the juncture of two U.S. highways, this parcel of land is a significant entry to the University Grounds as well as a critical link between North Grounds, Arts Grounds and Central Grounds.  In June 2015, the Board of Visitors directed the University and UVAF to undertake a comprehensive planning study for the redevelopment of this strategic area for uses to benefit the University, including the potential for residential, academic, commercial and hospitality functions.
For the complete Planning Study, click here
For the latest project schedule, click here
For the complete Cavalier Daily Article, click here
Emmet Ivy Task Force - February 2019
During the Fall 2018 academic semester, a Presidentially appointed task force led a structured process resulting in recommendations for uses, activities and programs for the Emmet/Ivy property. The President charged the task force with ensuring that the myriad programmatic ideas generated to date, as well as any new programmatic ideas that emerged during the process, were considered in the context of a broader vision of the University's needs and aspirations, and vetted with a diverse set of University stakeholders, prior to making official recommendations to the President and Board of Visitors.
For the complete Report, click here
Performance Hall Study - Fall 2018
In 2018 the University of Virginia Rector and Board of Visitors, with support from the Cornell Foundation, commissioned a study to assess the possibility of developing a signature performing arts venue on Grounds. A new and bold vision for the arts at UVA combined by learnings from other successful ventures in the area and the opportunity for a signature redevelopment of UVA's premier gateway have converged to make a compelling case for a synergistic investment in the arts on the Ivy Corridor.
This work synthesizes a bold arts program composition as well as potential placement on two compelling sites within the district.
For the complete Report, click here